Malison Turns Heads With Debut
The gentlemen in Malison did it! After inking a sexy little record deal with Combat Records, they have delivered a self titled debut album too! Look at how clever you are! You figured it out all on your own 😉 For those that are not familiar with this local heavy metal jewel, please allow yours truly to give you an idea what you've been missing out on.
"Beyond The Sun" has an upbeat and steady rhythm provided by drummer Nick Mafi and a sticky riff that will glue you in courtesy of guitarist Mario Lovio. This track rises to its full potential and is rightfully placed as their first track in this record. If you are still looking for another great hook up, listen to "The Protocol." The trio weaved together a badass theme song titled, you guessed it, "Malison" who works its way to the summit. This theme song has a nice and smooth start and then BANG! Bassist/vocalist Steven Rondina and Lovio ease their way into our unsuspecting ears.
Malison take a break from telling us all these heroic stories and let loose in their smooth jam sesh titled "The Architect." "Nightmare Pursuit" is anything but a nightmare, just listen to it carefully and allow the intro Lovio provides for this song to pull you back in. The album ends with the feel good and wide-eyed song titled "Seeker" and yes it will fill you with motivation and make you hungry for adventure…and hungry too. Malison are starving, fierce, and ready to conquer the metal scene. This album is just the beginning and frankly, we can't wait! Listen to the album and buy it on all major outlets!… Or just click here 😉 And see how we felt about them when we saw them last year here and here!
6 out 6, They've only just begun
Nervosa Preach Our Brutal 'Downfall' 
Brazilian thrashers Nervosa forewarn us about our impending doom in their latest installment  Downfall of Mankind released via Napalm Records. The trio are taking no prisoners in this record and aren't afraid to give you a piece of their mind! Nervosa have produced merciless tracks in their previous albums but they are ready to thrown down in this one. How? Let me tell you how!    
Bassist/vocalist Fernanda Lira begins this brutal soundtrack about our demise with her distinguished battle cry in the adrenaline soaked "Horrordome." This track is off the fritz with the help of  drummer Luana Dametto and guitarist Prika Amaral as well. Nervosa will give you the urge to rise with the brutal anthems "Kill The Silence" and the anti war anthem titled "Never Forget, Never Repeat." Amaral plucks her mighty axe for a bitchin' intro in "…And Justice For Whom?" And you just wait till you hear her solo! HOve you pieced back your face again? Ok, good. Let's proceed.
"No Mercy" does just that, Lira will rip your face off again in this thrashtastic tornado.The vocalist's bass slap and her fierce growls will echoe well in to next year! Can you hear it, Mr. Krabs? "Conflict" and "Cultura do Estupro" are heated and were great choices to wrap up this album because these tracks will not fade from your mind anytime soon. BUT if you have the chance to listen to the bonus track, "Selfish Battle" Lira showcases her epic power metal-like howls which are just as contagious as her growls. This album is a manifesto and its flashing its sharp teeth and is ready to start a thrash revolution. Listen to the album on Spotify and get your copy here!   
5 out 6, To the end!
Gruesome Offer 'Twisted Prayers' In Their Sophomore Release
Death incarnate has risen once again in the form of the super group Gruesome. If you love reading our shitty site, you are aware as to how we felt about them last year… you haven't?! Well, click here to warm up for the rest of this article. JK! Finish this one first, I love you long time. Anyway, Gruesome have brought us a sacred offering titled Twisted Prayers through Relapse Records and it is quite the spiritual awakening.
Gruesome don't beat around the bush and gets crackin' with "Inhuman," and vocalist/ guitarist Matt Harvey continues to bless us with plenty of Schuldiner worthy riffs and vocals. Harvey kicks off "A Waste Of Life" with a slower melody that will slowly slither and coil itself around its listeners. The overall tempo of this track may be slow by comparison but it doesn't mean that its your neighborhood "radio friendly" track. This song is a low life mooch that will circle around your stuff just waiting to snatch it! But I guess you will turn a blind eye after you hear Harvey's amazing solo mid way drip like molasses.     
There isn't a fantasy more deadlier than "Fatal Illusions," you just let Schuldiner…oops, I mean Harvey's growls take you off to the death metal promised land. "At Death's Door" has an attention grabbing riff to kick off this track that mimics the signature calculated riffs we adore so much and will slowly work their way beneath our feet and catapult us in to the heavens! Twisted Prayers is a great follow up to 2015's Savage Land, and even though its packing less songs, this ones fierce! Listen to the album in major streaming services and get your copy here!  
6 out 6, Hallelujah!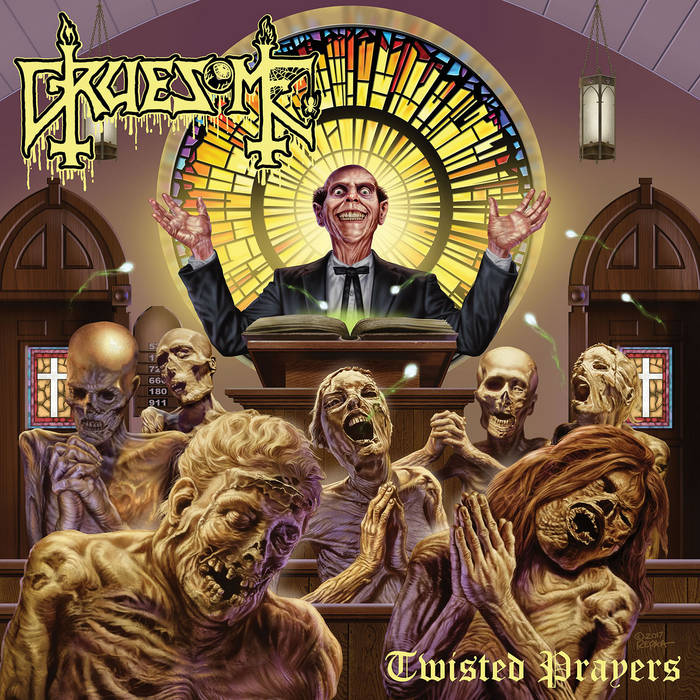 Ghost Gives Us An Insightful 'Prequelle'
Ghost continue their crusade in their ghoulish and unholy endeavors in their latest Prequelle released via Loma Vista Recordings. With a new album comes a new head of this cult, so with that being said we now have Cardinal Copia on vocal duties. Does the Cardinal have the same musical chops as the Papa's before him?! Will you stop being so salty about Ghost and see what I gotta say? Ok, fair enough I respect ya but you have nothing better to do and you know you are a little curious about it.
The nameless ghoul summon its sharp axe by giving "Faith" a grand and killer intro. The track ends with a good ol' fashioned church choir accompanied by the organ because you cant have one without the other! It's like pancakes and maple syrup, beer and wings. You get what I mean. "See The Light" is an empowering break up anthem Cardinal Copia belts out which is sure to mend any broken heart. "Miasma" is a nice buffer in between because its an awesome little jam sesh from Ghost where all the ghouls can flex their music muscles and there is A SAXOPHONE GUYS!
"Pro Memoria" has a strong cinematic element that is sure to lure listeners in, Ghost succeeds in weaving another beautiful hymn for the dark prince. "Helevetesfönster" would be a good instrumental song for a Grimm fairytale and lastly, Ghost will makes us long for them forever with "Life Eternal." *Mega swoons* Love them or hate 'em the unholy empire of Ghost reigns supreme in Prequelle and provide more memorable tracks in this installment that are borderline sacrilegious. Listen to the whole album on major streaming services and get your copy here!
6 out 6, Trés magnifique!